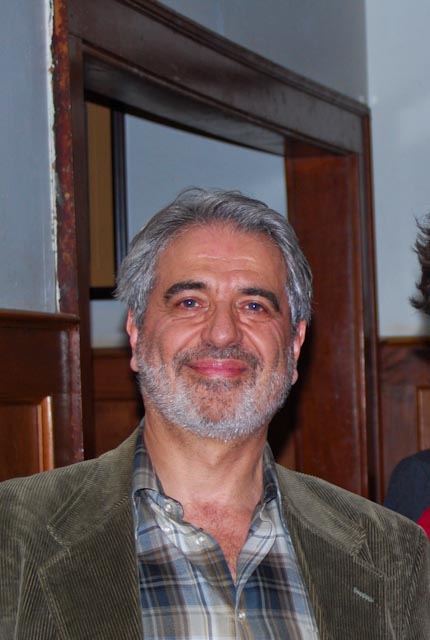 Happy Birthday, Joe
In just a few weeks (March 22nd to be exact) Joseph Ben-David, founder and minister of the Church of Humanism, will be celebrating his 100th birthday.  I want to take this opportunity to wish Joe a very Happy Birthday and to celebrate his long productive life.  Also, I invite you all to take this time to celebrate with me and to also wish Joe a very Happy Birthday.  You can either go here or use the comment note below.
I first met Joe in the late 70s when I answered an advertisement in the Village Voice (now defunct) weekly newspaper.  It was a "hip" periodical in New York City at the time.  I attended one of the Church of Humanism's social events based on the announcement in this paper.   At that time, I was a naive idealistic young adult, quite lost, looking for something more of life.  At these social events I felt welcome and I realized that something very important was happening here.  This was the time when the human potential movement was in full swing.  Joe was the moderator of these social events and he was warm and friendly, and he had a way of understanding you and what you were going through.   I quickly learned that there was more to these events and, as the facilitator, there was more to Joe.   It wasn't just about socializing with others; it was about understanding how one relates to others and with oneself.  The overall focus was to live a healthier life (mentally and spiritually). 
Through the decades, I attended and participated in many of these social events.  I consider myself fortunate to know and work with Joe and with the church throughout these many years.  I am honored to say I consider Joe a friend and life mentor.  I am proud to say that his guidance and wisdom have helped me to become the man I am today.  Joe has broadened my understanding of what it means to be a compassionate and caring person.  To listen and respect others and not to give in to false narratives and false gods like the ones revered by today's major religions.  To see god as ideal reality and to work towards that possibility.  That is what god means to me. 
Through his work as reverend and moderator of the church Joe introduced me and others to many innovative thinkers and scholars.  I don't think I would have come to know much about them and their ideas, had I not met Joe and had I not participated in the various church activities.  Among these thinkers and scholars are Martin Buber, Erich Fromm, Abraham Maslow, Carl Rodgers, Wilhelm Reich, Karen Horney, Albert Schweitzer, Giordano Bruno, John Dewey and Hannah Arendt.  I've learned to become a more authentic human being and a humanist by actively participating in many church events and by reading the many works I was introduced to.   As I've grown, I like to think I know myself more; I understand better what god means to me and I'm more capable of serving god.
I recall one memorable lecture series I attended in the early 90's at the All Souls Unitarian church.  Spanning several weeks, it focused on Vaclav Havel's peaceful strategy of "Living in Truth", and the main point was, are we true to ourselves?  Are we listening to our core or are we living life like automatons?  In addition to attending lectures, I also spent many Fridays (took the day off from work) cooking with Joe for the Church of Humanism's weekly soup kitchen.  While cooking a hearty soup, Joe and I spent hours talking about life and what it means to serve god. 
Joe has had a significant impact on my life.  However, we often don't consider how difficult it must be for him to live a life of sacrifice and to give his undivided (1 on 1) attention to others.  Joe is a tireless worker promoting what he believes.  His passion and his ability to persevere in the face of difficulties and challenges is remarkable.  He is always optimistic that we are making progress, regardless of how small the work that move us forward seems.  And of course, he is always there for you, listening with compassion and understanding. I see Joe as someone who is strong in character yet gentle when he relates to others.  I see him standing up to his detractors and supportive to those in need.  Joe has dedicated his life to lifting the human spirit in all of us.
Joe thank you for having such a positive impact in my life.  Once again, Happy Birthday, Joe on your 100th, and may you have many more birthdays in your future.